Jim Yukes – ICF Task Force #3 Member
Jim Yukes, AVH Engineering Inc, has over 25 years business development experience including Non-Destructive Examination, facilities and pipeline integrity services in Western Canada and internationally. Jim has been committed for over 5 years to IPEIA including Program, PR and Steering Committees.
Rob Vesak – ICF Task Force #3 Member
Rob Vesak, 1st Class Power Engineer/API 510/IBPV, Certified Energy Manager/Auditor. Rob started his career as a Corliss Steam Engine Operator, received firing time, and worked from 1977 to 2006 in Pulp and Paper as an Operator, Shift Engineer, Chief Engineer and Chief Inspector, Continuous Improvement Advisor and Assistant Production Manager. Moving to Oil & Gas in 2006, Rob worked as a Chief Inspector, and Reliability Manager. Rob shifted roles in 2014 to start up his own company, Trust Integrity Management Inc, working to support companies set up Integrity Management Programs, Completing RBI, Hands on Inspections, Commissioning, Project Management, Thermography and Energy Management. During Rob's career he has both commissioned both small facilities and large ones, supporting through the start up to successful operation. Early in his career he was involved in one facility shutdown. His preference is the start-up or renewal. Rob enjoys working hands on with teams in the field and sharing his knowledge and learnings from the past 40 + years, believing that no problem is too great, and if you do things right the production will follow!
Doug Brett – ICF Task Force #3 Member
Doug Brett, CET, ABSA IBPVI, TSASK Class 1, API 510/570/653. Doug has over 20 years of experience in the Oil and Gas Industry, from the wellhead, through the processing (conventional and SAGD), pipeline systems (gathering and transmission), right through to petrochemicals, including R&D activities and inspections/integrity management. Currently, he is the Asset Integrity Manager for SECURE Energy, overseeing both SECURE's Pipeline and Static Equipment (Tanks/pressure equipment) integrity management programs, and is a member of the industry group, UCIA.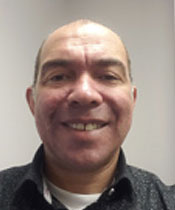 Marc McGill – ICF Task Force #3 Member
I have ten plus years in the energy and chemical production industries providing services as a Senior / Chief API Visual Inspector. Providing and assigning a wide variety of visual inspection services and NDE techniques. Coordinating Internal and External Inspections, Repair procedures, surveillance, and new installation requirements. Risk assessments and corrosion monitoring assignment and management. Implementation and Managing Owner / User programs. Consultations with Engineering and Operations groups to ensure that the programs optimal effectiveness. Dealing with pressure equipment, pipelines, storage tanks and structural components of these industries. Furthering my participation in large dollar domestic and international projects.
Shawn Santo – ICF Task Force #3 Member
Paisley Cameron – ICF Task Force #3 Member
Josh Wierenga – ICF Task Force #3 Member
Joel Pepin – ICF Task Force #3 Member
For close to twenty years, Joel Pepin has enjoyed a career focusing on R&D and quality management of manufacturing, fabrication, and welding technology. For the past 10 years, Joel has enjoyed his role as PCL Industrial's Quality Systems Engineer, which has provided him with many challenges and opportunities. Joel is also proud of his previous involvement with the American Welding Society (AWS) Alberta Section.
Cam McDonald – ICF Task Force #3 Member
Cam McDonald has been involved in the welding industry across Canada and in Australia for 20 years, as a: Welder, Welding Supervisor, Quality Inspector, and Quality Manager.
Aaron Crytes – ICF Task Force #3 Member
Aaron has been involved in the welding industry for 25 years across a number of fields, including: mining, automotive(automation), oil/gas and petrochemical working both in the US and Canada. Aaron graduated the Welding Engineering Technologist (3 year) program in 1998, in Northern Ontario, and was subsequently hired by Horton CB&I which brought him to AB. Aaron has been working with Aecon for 15 years and currently holds the position as Director of Quality for the Industrial group which spans across the country. Qualifications/certifications include CET, API 510, AWS QCI, CWB II and IWT.
Dean Lunt – ICF Task Force #3 Member
Dean Lunt is VP of Quality at Ledcor Industries Inc.
Megan Sutton – ICF Task Force #3 Member, Education Liaison
Megan Sutton, M.Eng., P.Eng. has been volunteering with IPEIA since 2016. She is a Materials Engineer with experience in materials and metallurgical engineering, failure analysis, compliance consulting, auditing, and quality and integrity management programs. Megan is currently working with Acuren as a Senior Materials Engineer in the Edmonton engineering and laboratory group.
Shane Caume – ICF Task Force #3 Member, Special Sessions Liaison
With an engineering technology diploma I began working in the integrity field testing and developing boiler and brine system corrosion management programs. After that I started my career with Northern Materials Engineering as an inspector. Working for various oil and gas companies as contract inspector worked up to chief inspector. For over 20 years working on various pressure equipment, boilers, pipelines, failure analysis, and developing management programs. Having the opportunity to chair the CCIA, and work with clients of various sizes and experience has opened many doors and opportunities. Development and implementation of regulatory compliance programs in BC, AB, and SK jurisdictions has been another challenge. Always keep the basic principle of safety in mind and you won't stray far from the objective.

Nathan Bartley – ICF Task Force #3 Member
PL(Eng), CET, ABSA IBPV, TSASK PEI Class 1, NB Commissioned IS/R, API 510/570, and CGSB UT2/MT2/PT2, with 21 years of experience in the Pressure Equipment Integrity Management (PEIM) industry. Started as an NDE Trainee, he has held multiple technical and management roles during his tenure. Today, Nathan manages the Acuren Prairies Visual Inspection department; responsibilities include maintaining the Acuren National Board AIA (Authorized Inspection Agency), ABSA AQP (Integrity Assessment Organization) and CWB CSA W178.1 (Inspection Organization) programs.